Part-time language teachers and teaching quality
Keywords:
EAP, language teachers, precarity, education quality, teacher motivation, teacher well-being, post-secondary
Abstract
English language teachers face precarious working conditions affecting their financial security, well-being, and teaching quality. Teachers who are precariously employed are likely to engage in unpaid work, juggle multiple jobs, and are less likely to have paid sick days and extended health benefits. These stressors may affect the amount of enthusiasm teachers display in class, affecting student motivation and emotional well-being. Teachers being paid by the hour are less likely to invest in preparing for classes and supporting their students in and out of the classroom. Contingent employment also means that teachers are more vulnerable to student complaints affecting how hard teachers push or challenge their students in class and during their assessments. Not surprisingly, teachers' precarious working conditions negatively affect students' long-term success. With the compounding effects of precarious employment, teachers need to be empowered to challenge the status quo to improve their working conditions and advocate for their students.
References
Baldwin, R., & Wawrzynski, M. (2011). Contingent faculty as teachers: What we know; what we need to know. American Behavioral Scientist, 55(11), 1485–1509. https://doi.org/10.1177/0002764211409194
Becker, E. S., Goetz, T., Morger, V., & Ranellucci, J. (2014). The importance of teachers' emotions and instructional behavior for their students' emotions – An experience sampling analysis. Teaching and Teacher Education, 43, 15–26. https://doi.org/10.1016/j.tate.2014.05.002
Breshears, S. (2004). Professionalization and exclusion in ESL teaching. TESL Canada Journal, 23. https://doi.org/10.18806/tesl.v0i0.1038
Breshears, S. (2019). The precarious work of English language teaching in Canada. TESL Canada Journal, 36(2), 26–48. https://doi.org/10.18806/tesl.v36i2.1312
Caza, A. (2020). The gig economy's implications for management education. Journal of Management Education, 44(5), 594–604. https://doi.org/10.1177/1052562920934150
Citizenship and Immigration Canada. (2010). Evaluation of the language instruction for newcomers to Canada (LINC). https://www.canada.ca/content/dam/ircc/migration/ircc/english/resources/evaluation/linc/2010/linc-eval.pdf
Corcoran, J., & Williams, J. (2021, March 30). English for academic purposes in Ontario: Results from an exploratory survey. Contact Magazine. http://contact.teslontario.org/english-for-academic-purposes-in-ontario-results-from-an-exploratory-survey/
Dornyei, Z., & Ryan, S. (2015). The psychology of the language learner revisited. Routledge.
Frenzel, A. C., Goetz, T., Lüdtke, O., Pekrun, R., & Sutton, R. E. (2009). Emotional transmission in the classroom: Exploring the relationship between teacher and student enjoyment. Journal of Educational Psychology, 101(3), 705–716. https://doi.org/10.1037/a0014695
Goldstene, C. (2015). Designed to fail: Adjunct faculty and the fight for education. Working USA, 18(3), 367–375. https://doi.org/10.1111/wusa.12186
Haque, E., & Cray, E. (2007). Constraining teachers: Adult ESL settlement language training policy and implementation. TESOL Quarterly, 41(3), 634–642. https://doi.org/10.1002/j.1545-7249.2007.tb00096.x
Jacoby, D. (2006). Effects of part-time faculty employment on community college graduation rates. The Journal of Higher Education, 77(6), 1081–1103. https://doi.org/10.1353/jhe.2006.0050
James, M. A. (2010). Transfer climate and EAP education: Students' perceptions of challenges to learning transfer. English for Specific Purposes, 29(2), 133–147. https://doi.org/10.1016/j.esp.2009.09.002
Jeon, S.-H., Liu, H., and Ostrovsky, Y. (2019). Measuring the gig economy in Canada using administrative data. Statistics Canada, Statistics Canada, & Analytical Studies Branch. http://epe.lac-bac.gc.ca/100/201/301/weekly_acquisitions_list-ef/2019/19-51/publications.gc.ca/collections/collection_2019/statcan/11f0019m/11f0019m2019025-eng.pdf
Lazarides, R., Gaspard, H., & Dicke, A.-L. (2019). Dynamics of classroom motivation: Teacher enthusiasm and the development of math interest and teacher support. Learning and Instruction, 60, 126–137. https://doi.org/10.1016/j.learninstruc.2018.01.012
Lewchuk, W., Clarke, M., & de Wolff, A. (2008). Working without commitments: Precarious employment and health. Work, Employment and Society, 22(3), 387–406. https://doi.org/10.1177/0950017008093477
MacDonald, J. (2017). The margins as third space: EAP teacher professionalism in Canadian universities. TESL Canada Journal, 34(1), 106–116. https://doi.org/10.18806/tesl.v34i1.1258
Mercer, S. (2018). Psychology for language learning: Spare a thought for the teacher. Language Teaching, 51(4), 504–525. https://doi.org/10.1017/S0261444817000258
Penrose, A. M. (2012). Professional identity in a contingent-labor profession: Expertise, autonomy, community in composition teaching. Writing Program Administration, 35(2), 108–127.
Premji, S., Shakya, Y., Spasevski, M., Merolli, J., Athar, S., & Immigrant Women & Precarious Employment Core Research Group (2014). Precarious work experiences of racialized immigrant woman in Toronto: A community-based study. Just Labour, 22. https://doi.org/10.25071/1705-1436.8
Raphael, D., Bryant, T., Mikkonen, J. & Raphael, A. (2020). Social determinants of health: The Canadian facts. Ontario Tech University Faculty of Health Sciences and York University School of Health Policy and Management. https://thecanadianfacts.org/
Sanaoui, R. (1997). Professional characteristics and concerns of instructors teaching English as a second language to adults in non-credit programs in Ontario. TESL Canada Journal, 14(2), 32-54.
Sun, Y. (2010). Standards, equity, and advocacy: employment conditions of ESOL teachers in adult basic education and literacy systems. TESOL Journal, 1(1), 142–158. https://doi.org/10.5054/tj.2010.215135
Umbach, P. D. (2007). How effective are they? Exploring the impact of contingent faculty on undergraduate education. The Review of Higher Education, 30(2), 91–123. https://doi.org/10.1353/rhe.2006.0080
Valeo, A., & Faez, F. (2014). Career development and professional attrition of novice ESL teachers of adults. TESL Canada Journal, 31(1), 1-19. https://doi.org/10.18806/tesl.v31i1.1164
Xu, D. (2019). Academic performance in community colleges: The influences of part-time and full-time instructors. American Educational Research Journal, 56(2), 368–406. https://doi.org/10.3102/0002831218796131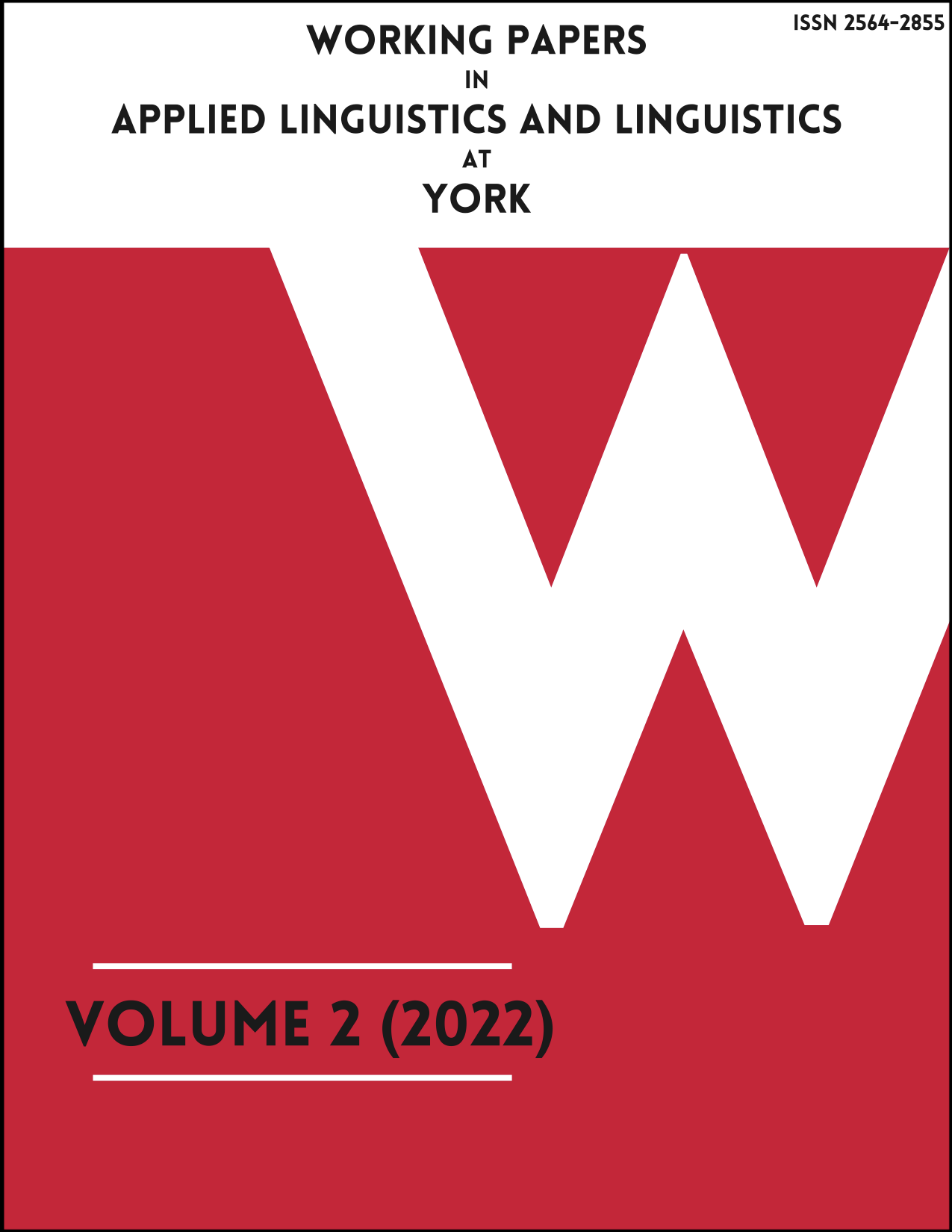 Downloads
How to Cite
Elshafei, M. (2022). Part-time language teachers and teaching quality. Working Papers in Applied Linguistics and Linguistics at York, 2. https://doi.org/10.25071/2564-2855.12
License
Copyright (c) 2022 Maryam Elshafei
This work is licensed under a Creative Commons Attribution-NonCommercial 4.0 International License.
You are free to:
Share — copy and redistribute the material in any medium or format
Adapt — remix, transform, and build upon the material
Under the following terms:
No additional restrictions — You may not apply legal terms or technological measures that legally restrict others from doing anything the license permits.